Halftime Observations
September 28th, 2008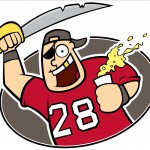 Nice to see a freakin' pass rush and how that prompts big plays from the linebackers and secondary. Bucs D had a flashback to its glory days. 
Give Chucky credit for the TD call to Alex Smith. Griese rolling left the Pack stunned.
Ronde Barber flat out gave up after slipping and falling and letting in a TD score. Inexcusable. Check the tape, if you don't believe it.
Finally a few runs to move the chains.
Griese was lucky not to be picked off. But so was Rodgers.
Hey, Clayton, catch the freakin' ball.
Settling for three can't continue.