Another Wild One; Bucs 30, Packers 21
September 28th, 2008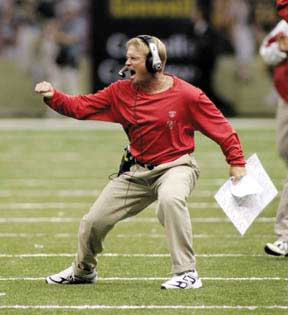 The Bucs defense wanted this game more than Brian Griese wanted to give it away. Thank goodness.
Son of Bob did his darndest to hand the Packers a road win with three interceptions, including a gift-wrapped TD return for Charles Woodson in the fourth quarter to give the Packers a 21-20 lead.
Other than starting Griese over Jeff Garcia, Chucky deserves credit for a well-coached game. Again, the Bucs came to play, as they do every week. And the Bucs actually stayed committed to the running game, even though it wasn't clicking steadily throughout the game. Take away Earnest Graham's game clinching 47-yard run late, and the Bucs ran 40 times for 131 yards.
Joe will have more later. Now it's time to celebrate!