Yesterday, Today And Tomorrow
September 30th, 2013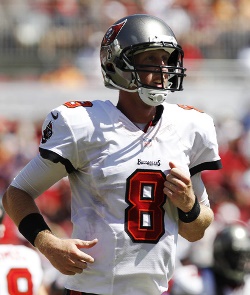 One Buc Palace is a mess right now, and who knows when it will get cleaned up.
How bad is it? Yesterday, depending on who you believe, defrocked franchise quarterback Josh Freeman agreed/was asked/ordered off the sidelines with his teammates and sent to a luxury suite to watch the game (Joe scanned the luxury suites with his binoculars at one point during the game and there are several empty suites at the Stadium on Dale Mabry Highway).
If the stench of the angst between Bucs commander Greg Schiano and Freeman isn't strong enough for you, there is also the odor of an 0-4 record and a really smelly streak of 1-9 for the Bucs in their last 10 games, which is starting to remind people of the feces of the Raheem Morris Era. He was jettisoned after losing 10 in a row.
At least with Schiano, this season, the Bucs (sans the loss to New England) are not getting their doors blown off like the Bucs were with Morris, if that makes readers feel better.
Joe is starting to wonder if Freeman is trying to get Schiano run? Aside from his subpar performance this season in his first three starts, he did leave the field with the lead in the first two games. One reason he was benched was that he was late or outright missed team meetings/functions.
But now it is becoming ridiculous with Freeman's running to BSPN despite strict orders not to, and not heeding his team's wishes to talk to the local pen and mic club.
Not sure what type of (dumb) advice Freeman is getting but he is doing one hell of a job making himself virtually unsignable. At best, his actions are making him look like a petulant child. Just what team is going to sign a guy – at quarterback, no less – who, when things don't go his way, starts blowing off team meetings and becoming such a distraction he is almost told to go home. Did Vince Young pull stunts like this? Matt Leinart? Brady Quinn?
Just who the hell is going to trade (or sign next season) a quarterback proven to meltdown under pressure who, when things don't go his way, does his best to behave like a four-year old missing a second bowl of ice cream from mommy?
Some team leader this guy is. Some team guy Freeman must be, the way he is shatting in the middle of the Bucs' locker room like this. Think his teammates are happy trying to defend him the way he is being a massive distraction?
But this also brings up another point. If Freeman is acting this way, then is he just one of many others who have tuned out Schiano? Has Schiano lost the locker room?
Joe doesn't think so, yet. The Bucs have lost three games by a total of six points. That isn't a sign of a team that has packed it in.
Schiano, if people don't know this yet, likes to run a tight, controlled ship. Freeman's feet stomping and crying have become a distraction like he probably never imagined or has ever experienced. And what has now become a giant boil on the rear end of Schiano won't go away until Freeman himself goes away.
It has gotten to the point where Joe would not be shocked if Freeman is suspended for his behavior, deemed detrimental to the team, or told to stay home or is simply cut.
In the meantime, Freeman has likely cost himself thousands if not millions of dollars in future earnings.
He said/she said: So Josh Freeman's agent now says Greg Schiano lied about Freeman being told to go sit in the corner, eerr, go sit in a luxury box and stay off the sidelines yesterday? Schiano said in his postgame press conference that it was a mutual decision between him and Freeman.
Until Freeman quits playing Helen Keller with the local pen and mic club, the same group that defended him and his shaky performances for far too long, we will never really know the true answer to this story. But Joe can understand why Schiano asked/ordered the way Freeman has been throwing childish tantrums.
Freeman active/inactive: Schiano said he will take it on a weekly basis whether Freeman will be active or inactive for future games.
Now for this, Joe wags a finger at Schiano. Who really believes Freeman will ever wear a Bucs game jersey on the sidelines again? After the stunts he has pulled, Freeman is done. The only weekly decision Schiano will make about Freeman is to remember to write Freeman's name on the inactive list. Freeman, barring something unforeseen (like Schiano being fired midseason), will never be seen in a Bucs uniform on gamedays again.
Telegraphs: Yesterday, Patrick Peterson noted he got his picks, one which turned the game and his second sealed the win for the Desert Rats, because rookie quarterback Mike Glennon was telegraphing passes. Just like a rookie, you know?
This is why Joe thinks it is laughable when fans cry about "play-calling," which is sort of an empty crutch. Let's see, you have one of the best running backs in the NFL, two road graders in Donald Penn and Carl Nicks on the left side, and a rookie quarterback of a third round pick making his first NFL start, and you want to not run the ball and pass, say 30 times? Really?
Um, this just in: Passing is what lost the game for the Bucs (see above). Did Martin have his best game yesterday? No. But to not use arguably your best player, one of the best in the NFL, and put the ball into the hands of a green as grass rookie, well, that's why some people are paid to coach football and others are meant to stick to PlayStation.
Kevin Ogletree and Josh Freeman: So, if one is to believe Schiano, Freeman was benched because of performance. Joe gets that. Understands that. Hey coach, if you see it that way, fine. You are the coach. That's why you are paid the big bucks.
So if Freeman was benched due to a lack of performance – which Joe isn't against, mind you — then exactly why is Kevin Ogletree ever stepping on the field? He is arguably the worst player on the Bucs right now. He cannot catch a cold. He may be responsible for a loss because his drops have led to drives stalling.
If Freeman isn't playing because he stunk the joint up, per Schiano, then there is no rational reason why Ogletree is on the field.
That is, unless, there is a double standard set by the coaching staff.
Stop with the player-of-the-hour suggestions: Joe gets this a lot on Twitter. "Hey, why don't the Bucs pick up [players' name I recognize]?" Stop it. Stop it now. The Bucs, if they weren't last week after going 0-3, are out of the playoffs. The season is done, finished. Kaput.
In Joe's eyes, once you are out of the playoffs, there really is no reason to win games. Better to really stink out loud and position yourself with a good slot for next spring's draft then to fruitlessly try to get to, say, .500 only to have a middle-of-the-pack draft position. What's the point? That's almost as empty as foreplay.
The Bucs offensive line: There isn't a guy on the Bucs offensive line Joe doesn't like. All way cool guys. Joe thought this unit was the strength of the team. But a combination of age and health may be undermining the unit.
While Nicks was doing a good job blocking, Martin didn't have much if any room at all to run. Part of this was the Desert Rats all but dared Glennon to throw the ball and packed it in to stop Martin. Just about everyone expected this to happen.
But perhaps, Joe is starting to think, the Bucs offensive line is, well, not as great as we want to think it is. Maybe this line is just average?
Three-ring circus: Joe has never seen this much of a circus circling around the Bucs. First, Freeman being disposed as a captain, then the players-only meeting before the season, then it was Darrelle Revis allegedly unappy with the defense, then it was Freeman's benching, then his tantrums, then Schiano suddenly went – as the creator, curator and overall guru of ProFootballTalk.com, the great Mike Florio put it – all Col. Nathan Jessup on the pen and mic club last Friday, and all the rumors floating about the Bucs, this is just insane.
Joe has never seen anything like this before. Every day is another leak/rumor/story/wives tale. To be honest, Joe doesn't see this dying down any time soon unless the Bucs start winning. There sure must be a boatload of people who want to bring Schiano and Bucs rock star general manager Mark Dominik down the way there's a new story each day being leaked about the Bucs. Man.
Turning it around: Schiano professed confidence that his team will turn it around the Bucs who are now spiraling the drain. Of course he would say this. Anyone expect Schiano to say, "You know, things have gotten so out of hand, I really expect us to push the Lions for the 0-16 record."
If the Bucs cannot turn things around on the Desert Rats, one of the NFL's dregs, just when can the turnaround happen?
Road signs: Again, Team Glazer has never jettisoned a coach before said coach has worked three full seasons. But the smell of Schiano's reign ending prematurely is in the air. A team loaded with Pro Bowl talent can't win; an offense that is impotent; a Raheem Morris-like losing streak; a circus that would shame Ringling Bros. All point to a regime change.
Joe's not saying Team Glazer will break its self-imposed edict of a coaching change before three years have passed, but in some ways, this team is worse than when Morris was around (the circus atmosphere and daily leaks/stories floated for example).
Around the NFL
Seahawks: Man, this team may just be the best in the NFL. Joe believes they could really give Bill Belicheat a run for his money. Beating Houston on the road is impressive. Well, it helps when Matt Schaub throws a terrible pass late that is picked.
Lions: The Lions are a dangerous team. Yeah, Joe knows Bucs fans mock them, largely due to Matthew Stafford, but this team has a boatload of talent and if they were ever pulled together with some discipline they could make waves.
Of course, bratty Jay Cutler returned to being bratty Jay Cutler yesterday and did his best to help the Lions' cause. (FYI, the Bucs will very likely be in the market for a quarterback and Cutler could be a free agent.)
Browns: So the Brownies, after blowing up their team in a race to draft Teddy Bridgewater, have won two games thanks to the play of journeyman Brian Hoyer. Really, Brian Hoyer? And the Bucs saddled themselves with Dan Orlovsky as a backup?
Chiefs: The juggernaut known as the Kansas City Chiefs continue to roll. Go ahead and mock Alex Smith if you wish, but Andy Reid has his playing perfect for that offense.
Also, feel free to mock Scott Pioli if you wish. That team was largely stocked by Pioli's draft picks. Pioli was miserable managing a team –incited an insurrection in the Chiefs' front office — and couldn't pick a coach. But he knew what the hell he was doing with the draft.
Colts: What would you expect? They played the Jags, a team so putrid they are embarrassing the football staff at Florida International. Oh, and Gus Bradley said he is sticking with Blaine Gabbert at quarterback the rest of the season. Now there's a man that knows how to make a run at the top pick in the draft!
Bills: Unlike the Bucs, the Bills have a college coach who seems to know how to win games. Get a lead and hang on. Doug Marrone is also doing this with a rookie quarterback and a solid running back. So why can't the same success happen in Tampa Bay?
Vikings: Matt Cassel beat the Steelers. Matt Cassell! Man, how the Steelers have sunk to a new low. If you are getting beat by Mr. Turnover Matt Cassell.
Titans: Has Jake Locker finally turned the corner? The Titans quarterback, who fans were beginning to label as a bust, may have had his best day as a pro, tossing three touchdowns in three quarters before suffering a hip injury.
There is some talent on that team. The only thing missing was quarterback play. Now, it appears, the Titans may have the missing piece.
Redskins: Joe isn't doing cartwheels over the Redskins finally winning a game. They beat the Raiders after all, an AFC West punching bag. That team is putrid.
Broncos: The Broncos are rolling and Peyton Manning is being Peyton Manning. But Manning always plays well in the regular season. His kryptonite is the playoffs. It's not January yet.
Chargers: Philip Rivers and Antonio Gates went nuts yesterday. When those two are having a good game, the Chargers are as dangerous as just about any team. Just out of curiosity, Joe checked and Rivers has two years left on his current contract.
Patriots: Joe snickers whenever he hears Bucs fans try to defend Freeman by saying he was victimized by drops. What quarterback hasn't, including Tom Brady, who has garbage receivers, yet he somehow finds a way to win and win big. That's what Hall of Famers and studs do. They don't curl up in a fetal position and suck their thumb when a receiver drops a pass or two.
Non-football thoughts:
1. Joe saw a gross sight Friday. He walked into a store, and there was a Christmas display. It was depressing. Why do retailers assault us with Christmas – in friggin' September!!! – so early? It is appalling. Joe will not visit that store again until January.
If a place puts up a Christmas display in September, why the hell even take it down in January? Just keep it up the whole damned year.
Only way to stop this nonsense is to refuse to buy anything from said stores that ambush innocent customers like this.
2. Typical Rays. Always have to do things the hard way. Had a chance to clinch a wild card this weekend. Now they are in a tiebreaker with Texas where the Rangers have activated a known roid user. Great.
3. Yet another Cardinals playoff berth. Joe isn't feeling confidence in the Redbirds without RBI machine Allen Craig. If overrated Mike Matheny has either Amy Lynn or Jake Westbrook starting in any postseason game, then he needs to be drug tested.
4. Joe doesn't give a damn if he is mocked for the following because Joe believes it to be true. Joe swears the other No. 5 in Florida, Jameis Winston, looks more polished as a freshman than Josh Freeman did as a fifth-year pro. If this Winston doesn't get hurt, he will be something special. Well, he already is.
5. The cracker who called an Atlanta radio station and started bawling on the air because he wanted Mark Richt fired (after the first game!) but couldn't figure out who should replace him, Joe wonders where that idiot is now after Georgia beat LSU Saturday in one of the funniest games Joe has watched in some time. People that stupid should be sterilized for the sake of the human race.
6. Joe is from Big Ten country and he is a Big Ten honk but that is just some wretched football up there. What the hell has happened to a once proud conference? Purdue got totally waxed by a MAC school this week. The same program that gave us Len Dawson, Bob Griese, Mike Alstott and Drew Brees gets blown out of the stadium by Northern Illinois. The coaching staff there should be happy they are still employed.
7. Johnny Football is one sick dude. He put on another show this weekend, pulling a rabbit out of his hat, dodging a blitzing linebacker, rolling left and firing a bullet in a crowd for a touchdown, threading the needle. That guy is worth the price of a ticket alone.
8. Despite what Al Golden says, Joe thinks the Canes are back. Will be very interesting to see what they do when they travel to Florida State (and it's overrated defense) later this year.
9. Maryland is undefeated? The Turtles! Somewhere, Norman Chad is raising a can of Pabst Blue Ribbon.
10. Joe has a feeling if the House GOP somehow wins the fight to delay or defund ObamaCare (the latter, doubtful), voters will be so outraged the GOP will lose the House in 2014. Pick a different fight, fellas.