Demar Dotson Uncensored
August 3rd, 2018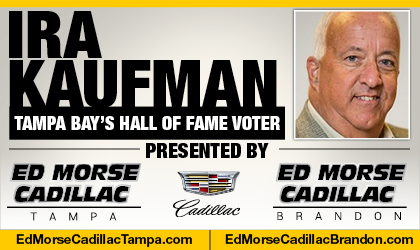 BY IRA KAUFMAN
His right knee may not be 100 percent, but Demar Dotson's truth-meter is working overtime.
The longest-tenured player on the Bucs stayed after practice at the indoor facility the other day, patiently signing autographs for more than 50 fans. He smiled for pictures and shook hands before reinforcing his reputation as Tampa Bay's most candid player.
Ask Dotson a question, even a sensitive one, and you don't see the hesitation so prevalent among pro athletes. You don't sense the filter that so often trades in straight talk for drivel.
Dotson, who turns 33 in October, speaks his mind. He tells it like it is, letting the sound bites fall where they may. And if you heard him on our podcast this summer or read his quotes through the years, you know he is a stand-up guy.
"I'm not where I want to be at the moment," he says of his rehab from offseason surgery to repair a torn meniscus. "I thought I'd be a little farther ahead at this point, but I've still got time to work my way back into it. Next week, maybe I'll be doing some 11-on-11. I'm not where I want to be, but I'm going to get there."
In the meantime, Dotson has kept a close eye on the battle at right guard, where Caleb Benenoch is trying to hold off Alex Cappa, an impressive rookie from Humboldt State.
"You've got two young guys competing hard there," he says. "Caleb was more comfortable playing tackle than guard, but he has a good opportunity in front of him. Cappa is strong, smart and athletic. He's got all the tools and he's going to be a good player in this league. Yes, he's from a small school. Jason Licht does a good job finding those guys."
Dotson says the addition of five new defensive linemen has been a game-changer for the organization.
"We've got quite a group up front now," he says. "It's something we haven't had around here in a long time. Jason Pierre-Paul is one of the best pass rushers in the NFL — when he really wants to turn it on. That was my biggest concern when we traded for him … which JPP are we getting? But the guy has been going hard, really competing in the run game.

"He's all over the place, over the guard, over the center, out on the edge. Then you've got Coach Buckner screaming at his guys and making us better as an offensive line. Noah Spence is having a great camp. He put on 20 pounds and I thought he'd lose some of his speed, but he hasn't. Then you've got the two guys from Philly who just won a Super Bowl, but they don't have their noses up in the air."
I asked Dotson about the enhanced work ethic evident in a camp with minimal distractions.
"That's what we needed," he says. "Last year, there was so much hype and we hadn't done anything to deserve it. Then we had Hard Knocks coming in, praising everybody. That's a bad sign. When we had Hard Knocks coming in, I said to a lot of people that it wasn't a good thing. It seems like everybody is more focused this year, keeping their heads down and going to work.

"You've got a different kind of energy. Last year, with the cameras around, some things were fake and phony. You could tell some people were doing things for the camera. Now, there's no cameras around and people know this is like a do-or-die year for us. We've got to win for Dirk and we've got to win for ourselves. We want Dirk to be around here. There's only way that will happen — this football team has to win."
Now in his 40th year covering the NFL, Ira Kaufman is the most revered sports personality and writer in the Tampa Bay area. He scored a full-time seat at JoeBucsFan.com world headquarters in July of 2016. Tampa Bay's only Pro Football Hall of Fame voter, Ira busts out columns here every Monday, Wednesday and Friday, and his award winning podcasts fire Tuesdays and Thursdays. You can also hear Ira on SiriusXM Mad Dog Radio Wednesdays at 5 p.m. during football season. Also a TV star, see Ira now on Mondays at 10:30 p.m. on Spectrum Sports 360 (aka BayNews 9). Ira also is part of the FOX-13 Tailgate Sunday NFL show and enjoys beet salads, Riesling, tennis, Chiefs victories and needling Joe.