RoJo Flashes Magic
August 3rd, 2018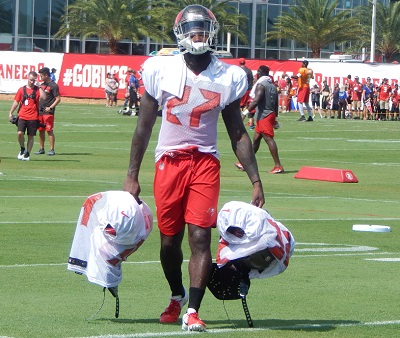 All that is special with Ronald Jones flashed late in practice today during an 11-on-11 session.
Many of his tired teammates were impressed.
"RoJo" was running left but came upon a red swarm of the Bucs defense, and there he was, turning and cutting right and busting around the other side of the pile running with a burst typically foreign to Tampa Bay rushers.
Joe can't remember the last time a Bucs running back even attempted that.
Visibly exhausted after staying on the practice field following about 20 minutes of extra work, Joe asked Jones about that play.
"Most definitely I can do that when it's there, just reading the blocks and then getting the flow of like where the defense is going and then hitting the seam," Jones said.
Jones hasn't flashed much in training camp and admits he's adjusting to the playbook and his assignments. His hands haven't been special. But Jones is here to run the ball and hit explosive plays, preferably one game-changer every time he's on the field.
It was just one play today, but Joe certainly was encouraged and excited.