NFL Network Snubs Buccaneers
July 13th, 2018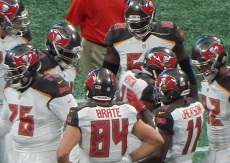 Apparently, NFL Network executives have no interest in showcasing the Buccaneers and their intriguing quarterback situation in preseason.
An official announcement was fired off yesterday by NFL Network detailing the games they would broadcast live in August. Of the 32 NFL teams, 23 will have a preseason game on NFL Network, which subsequently blacks out the game in the host city doesn't compete with a local broadcast.
Man, after the Bucs were August-ratings darlings for HBO last year, now they get a head-shake from the league organ and are a national afterthought when it comes to positive football vibes.
May the football gods spare us all and not let this team be winless entering Monday Night Football in Week 3 against the Steelers.
The three-game suspension of America's Quarterback, Jameis Winston, does not apply to preseason games, and one should expect to see plenty of him as the Bucs protect opening-day starter Ryan Fitzpatrick. (Stop right there, Ryan Griffin dreamers.).
Tampa Bay opens the preseason in Miami on Thursday, August 9, at 7 p.m. on WFLA-TV, Ch. 8.