Jameis Winston Says Self-Focus, No Hard Knocks Worry, Among Early Keys
June 16th, 2018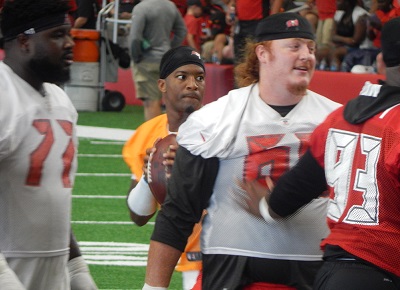 In case you missed it earlier this week, Joe and Ira Kaufman had a private sit-down with America's Quarterback, Jameis Winston.
So many topics were on the table, and some of those exchanges made their way to the Ira Kaufman Podcast.
One was regarding the change in team practices and focus you've read about so often over the past two weeks. Jameis weighed in on what's different at One Buc Palace in 2018. Here's the verbatim exchange:
JoeBucsFan.com: Gerald McCoy says the practices already have been different compared to last year's OTAs. How can you, Jameis, explain to fans what's been different in OTAs, what's been different in the building?

Jameis Winston: Well, I think it's just been pretty clear that we were aware that we didn't succeed to the expectations [of] us last year. But this year it's more about us. We're not worried about Hard Knocks. We're not worried about anything outside. We're worried about our individual craft and our individual improvement. So once everybody focuses on themselves first, that's how you make sure that you're doing everything you need to do to add to the betterment of the team.

Joe: So that's the difference. Sort of coming in with that attitude versus maybe learning it a quarter through the season or picking it up.

Winston: Absolutely.
Very interesting to hear Jameis reference Hard Knocks like that.
So many wanted to dismiss the notion of a potential Hard Knocks distraction, but what else would one expect when you put 90 young men and all their bosses on a reality show through all of training camp? A percentage will lose focus on the job at times.
That's not why the Bucs opened the season 2-6 or lost four consecutive one-score games in December, but little things do add up and matter.