QB Coach: No Sign Of Jameis Distracted By Investigation
May 18th, 2018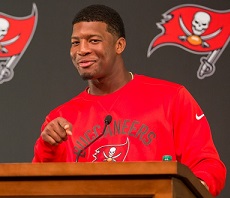 Happy six-month anniversary!
It's been six months since the NFL officially launched a conduct investigation into America's Quarterback, Jameis Winston.
For some reason, this probe is dragging on far too long, leaving the Bucs and their fans trying to figure out why the NFL thinks it's ok not to make the investigation a priority. There's zero evidence the NFL cares about securing a speedy and just resolution. And for Joe, that's ridiculous.
The NFL wants fans completely invested — financially and emotionally — in their teams, but then a league conduct investigation that could lead to a season-trashing suspension isn't given the proper attention.
Whatever.
There is good news, though. Jameis is not showing any sign of being distracted by the investigation, per quarterbacks coach Mike Bajakian.
JoeBucsFan.com columnist Ira Kaufman asked Bajakian whether Jameis has shown any sign of being off track because of the NFL probe. Kaufman asked a couple of different ways and Bajakian explained there's not a shred of that seen at One Buc Palace; Jameis brings the same work ethic to the building every day.