Comfort Food For Jameis
May 16th, 2018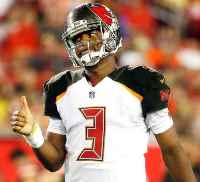 Interesting take on America's Quarterback, Jameis Winston, from a QB who knows a thing or two about feeling extreme pressure on a losing team.
First, it's safe to say confidently that Jameis puts too much pressure on himself and that leads to mistakes, sometimes big ones. That's partly Jameis' makeup, but it's also a byproduct of being ordered to hand the ball off about 250 times to the worst running back in the NFL over the past two seasons.
That would make Joe anxious and stressed, too. Shame on the Bucs for doing that to Jameis.
Shame. Shame. Shame.
But that's old news. That running back moved to Oakland and now the Bucs have Peyton Barber and explosive rookie (hopefully) Ronald Jones to carry the rock.
Former No. 1 overall pick quarterback David Carr, now an NFL Network analyst, talked about how Jameis feels the pressure more than most and believes the pick of Jones not only will help Jameis because Jones can run, but he said it will get in Jameis head so he won't "feel like he has to try and do everything."
It was an interesting nuance by Carr, a guy who understands that personally.
Carr was blessed with stud running back Domanick Davis in Carr's second, third and fourth season. Davis went down with a huge knee injury in that fourth season and Carr's career stalled.
Joe's willing to buy in to this. Perhaps some of Jameis' mental challenges were born from his distrust of the run game, in addition to its ineffectiveness.