Could Carlos Hyde Get Back In Play?
April 15th, 2018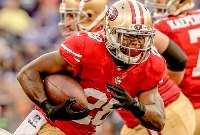 We know from Dirk Koetter himself that the Bucs chased at least one high-profile running back in free agency last month but backed out as the price escalated.
We also know there's a strong chance the Browns draft Saquon Barkley.
Cleveland owns the Nos. 1 and 4 overall picks in the draft next week. And nearly every draft guru on the planet believes Barkley is the best talent available in the draft — a true three-down running back with more game than Ezekiel Elliott when he was a prospect.
So what if the Browns draft Barkley?
They already have 24-year-old Duke Johnson on the roster, one of the most versatile backs in the NFL. He had 74 receptions and 4.2 yards per carry last year, racking up more than 1,000 yards from scrimmage.
And the Browns just paid pounding and proven running back Carlos Hyde to a three-year $15.25 million contract in free agency. Hyde is a true No. 1 running back and simply does not fit with Barkley on the roster.
If that draft scenario plays out, Joe would smell opportunity. Perhaps the Browns would take the Bucs' fourth-round pick next year in exchange for Hyde?
A deal like that would be win-win for both teams. And maybe Hyde was on the Bucs' radar in March, as Koetter noted. A quick look at Hyde's contract shows the Bucs could get out of it after this season with minimal consequences, and they still could draft a running back in the late rounds this year.