Close Doesn't Count
March 2nd, 2018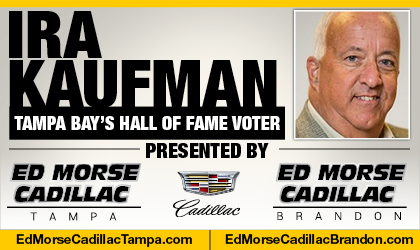 BY IRA KAUFMAN
What did you expect them to say?
No NFL coach or GM worth his hefty paycheck is going to stand up at a podium and talk about the chasm between their team and the other clubs in the division.
According to Jason Licht and Dirk Koetter, the Bucs are close. The standings suggest they are not, but things can change in a hurry in the NFL, where five or six new teams seem to vault into the postseason field every year.
Koetter says Tampa Bay's 5-11 record wasn't a referendum on effort. He has no qualms about the hustle and desire of his players and Licht says he's proud of the way the Bucs competed hard for an embattled second-year head coach.
Hold on, folks. In a way, those remarks are particularly troubling. If the 2017 Bucs gave it their all and still fell short 11 times, what does that say about the talent and the coaching?
At the Indy combine, much was made of the fact Tampa Bay was 3-7 in games decided by 7 points or less. Koetter took his fair share of the blame for those chronic failures in crunch time.
"The No. 1 thing I have to do better is, I have to help our guys – we have to figure out a way, when it comes down to winning time, we have to figure out a way to win," Koetter said. "There was more than one team that had 10 one-score games, but of the teams that had that many, we had the lowest winning percentage. We can make all the excuses we want, but we played hard enough."
Before we get carried away with all these close losses, I'd like to point out that the Bucs failed to post at the start of several road games.
Effort Not Enough
How about a 21-3 halftime deficit at Minnesota? Remember the halftime score at Arizona? Try 24-0, Cardinals. The Saints led 30-3 after three quarters at the Superdome. Atlanta bolted to a 20-6 halftime advantage at its new stadium. That's half the road slate in which the Bucs simply were not competitive until things got out of hand. That's anything but close.
How about chemistry?
"I believe, and I'm not the only one here, that we have a very, very good core group of players in terms of what they bring and add to the locker room," said Licht, "and we need to add to that."
Still, Swaggy Baker's immature antics went unchecked until the season was almost finished. Kwon Alexander finally took Baker on and if you look closely enough at the altercation in Charlotte, you can see Licht cheering from outside the locker room.
"Looking back on it now, I did like the passion and energy that I did see out of the young players, wanting to hold people accountable," said Licht. "I loved it."
Fresh Faces & Realism
Big changes are coming to One Buc Place … that's a given. If things don't improve this fall, even bigger changes are on the horizon.
When training camp concludes, you'll see many new faces in the trenches, at running back and in the secondary.
I wouldn't be shocked to see a half-dozen new starters as Licht and Koetter fight for their professional lives. Speaking of fight, let's remember that Demar Dotson, the longest-tenured Buccaneer, said securing Koetter's future in Tampa was very much on the minds of players down the stretch.
"What I don't think people realize was just how close our team was coming together and galvanizing," Licht said. "They really love playing for this coach. They believe in him, I believe in him, our roster believes in him and our assistant coaches. They played their asses off for him and it was really cool to see that."
Let's turn the page in an ugly chapter. A new year is almost upon us and optimism abounds. But let's be realistic, too.
In the NFL, close doesn't count. In the NFL, close gets you fired.
Always be closing.
Ira Kaufman is the most revered sports personality and writer in town. He has hung his hat at JoeBucsFan.com world headquarters since July 2016. Tampa Bay's only Pro Football Hall of Fame voter, Ira busts out columns here every Monday, Wednesday and Friday, and his award winning podcasts fire Tuesdays and Thursdays. You can also hear Ira on SiriusXM Mad Dog Radio Wednesdays during football season, and see him now on Mondays and Fridays at 10:30 p.m. on Spectrum Sports 360. Ira also is part of the FOX-13 Tailgate Sunday and enjoys beet salads, Riesling, Chiefs victories and needling Joe.