Mystifying Money Flush On Jay Hayes
February 15th, 2018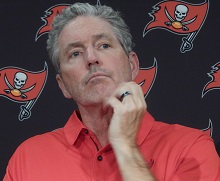 Absolutely defensive line coach Jay Hayes was fired after receiving a 2018 contract extension a small handful of weeks ago.
Hayes was dumped last week after two Bucs seasons and Bucs beat writer Rick Stroud is adamant that Hayes got a new deal before he was told to clean out his desk.
Here are Stroud's exact words from his Tampa Bay Times podcast:
"This team decided pretty early on when they brought back Dirk Koetter, when they knew he was coming back; that was announced before the final game. Shortly thereafter, you know, all their assistants, their contracts were up but there was a club option on all of them. And I confirmed and have confirmed that Jay Hayes was one of the assistants, along with the others, where the team actually picked up the club option. So he has a contract with the Bucs to coach in 2018. So for something like this to come down this late, you know, a lot of antennas go up."
Assuming Stroud is accurate, man, Joe can only imagine the collective face of Team Glazer when advised of this money flush. Of course, Joe hears the internet speculation that Team Glazer ordered the hit on Hayes, but that sure is tough to believe.
So how does this happen? How does a veteran coach get a performance evaluation followed by a new contract and then a quick boot out the door? It's highly unlikely that the real truth ever comes out.
It's almost as odd as hiring an offensive coordinator who literally didn't know how to call plays — and then firing him when it was uncovered several months later (see 2009 Buccaneers).