Passing Grades At One Buc Palace
January 15th, 2018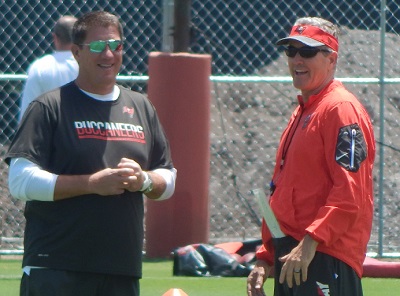 It seems there's a been a lot of back-slapping, fist-bumping, arm-barring and champagne-toasting recently at One Buc Palace.
A thorough and extensive review of the coaching staff has been completed.
The result?
Well, Rick Stroud of the Tampa Bay Times reports today that the entire Bucs coaching staff had its contract options picked up for the 2018 season. The band is coming back, so it appears.
Joe is not surprised. Look, Jason Licht and Dirk Koetter will do everything in their power to improve this football team. These devoted men scour the globe for the best coaches and self-scout their coaches until the wee hours to determine the best fits for this team. And, it seems, that hard work led them to determine (for now) Tampa Bay has the very best staff it could find. Yes, Joe is being sarcastic.
Something sure stinks about this two-week-old Bucs offseason.
Yes, Joe will do the research to see what team in NFL history has had the 32nd-ranked defense like the Bucs did this season and then kept its defensive staff in tact. That might take Joe a looooong time to figure out.