Koetter Says Job Security Talk Is A Distraction
December 26th, 2017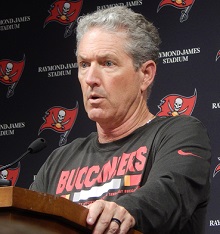 Moments ago at One Buc Palace, Tampa Bay head coach Dirk Koetter was asked about rumors surrounding his job security, specifically about whether he talks to Team Glazer about it and whether it distracts him.
Simply stated, Koetter said he doesn't talk to owners about that.
On whether the hot-seat rumors are a distraction, Koetter was direct, as well. "Of course. It's your life. It's what you do," Koetter said.
No surprise that it's a distraction to Koetter. How could it not be? However, his players have said for weeks that they see a very consistent head coach in his approach and demeanor. America's Quarterback, Jameis Winston, made a passionate speech about that last week, Joe talked to other players yesterday in Charlotte, and guys echoed the same thing.
Defensive coordinator Mike Smith suggests ignoring the noise, like he did in Atlanta, is mandatory for a head coach. "You simply don't listen," Smith told Joe of how he handled things on the hot seat as Falcons head coach.
Uncertain times at One Buc Palace.
Joe views Koetter admitting he's distracted as Koetter just being his typical candid self. It's refreshing. Joe sees it as nothing more than an honest answer, not one that means the coach can't get the job done. Look, Joe's distracted every hour by a beautiful woman and has no problem performing his life duties. Heck, Jameis was distracted by a seemingly endless stream of off-field concerns through college and managed to dominate.