Ira Kaufman's 10 Takeaways From Bucs-Panthers
December 24th, 2017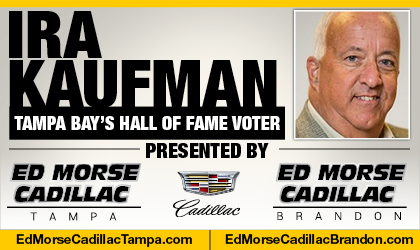 BY IRA KAUFMAN
They ravaged the NFL's No. 5 defense for 392 yards. They kept Greg Olsen in check and punted only once. They scared the bejesus out of Jerry Richardson, who surely has bigger issues to worry about.
Still, they lost.
That's five in a row in the wrong column for Dirk Koetter, who lasted a little more than three minutes on the podium following Sunday's setback before the media ran out of questions or Koetter ran out of answers.
The end of the season can't come soon enough for Buc fans eager to see what changes are in store for the perennial also-rans of the NFC South.
The bottom of NFL rosters churn over every year, that's a given. Most Tampa Bay supporters would like to see some churn at the top.
With one week remaining at One Buc Place before a pewter purge, here's how the latest heartbreaker went down in Charlotte.
* It could have been anyone, but it had to be Swaggy. That's right, Chris Baker couldn't stop himself from crossing the line of scrimmage prematurely with the Panthers facing fourth-and-3 and the game on the line.That yellow flag is a perfect complement to the blue mood of all those Buc fans fed up with Baker's play for 15 games.
* Jameis Winston came close to personally willing the Bucs to victory. Yes, he made some mistakes, but he also made throws all over the field while converting 6-of-11 third downs against a fierce defense that hounded him all afternoon. And about that late-game tantrum … I say bravo.
* Tampa Bay's two longest plays from scrimmage this year have come from rookies, with Chris Godwin's 70-yard catch-and-run on Sunday topping the 58-yard reception by O.J. Howard against the Giants. I'd have no problem with Godwin emerging as my No. 2 target in 2018.
* Red-zone issues were critical vs. Carolina, but the bitter truth is the struggle to finish drives has plagued the Bucs all season. Coming into the game, Tampa Bay had scored only 23 TDs in 44 possessions inside the 20. Koetter said his red-zone calls stunk on Sunday. No argument here.
* A 1-7 record on the road and an 0-5 mark within your division are both embarrassing failures for a franchise that is weighing down the best division in pro football. If the Bucs don't beat the Saints in the season finale, they will finish 0-6 in divisional play for the second time in the past 4 years.
* Julius Peppers will end up wearing a gold jacket as a first-ballot Hall of Famer, but he turns 38 in a few weeks. The man's going to haunt Winston's dreams this week after schooling Caleb Benenoch, who was 8 years old when Peppers broke into the league in 2002.
* Doug Martin? Really?. Did we just see Martin in the Bucs backfield during crunch time? Another six carries worth seven yards for a player who has absolutely zero chance of wearing pewter next fall. This nutty backfield situation is a bigger mystery than Stonehenge.
* On a day when the Bucs needed contributions from all corners, special teams were no bargain. Carolina scored on a kickoff return and Patrick Murray pushed a 51-yard FG try that could have put the Bucs up 22-15. Murray is now 2-for-5 on kicks from 50 yards or more. Not good enough.
* The Jon Gruden rumors are flying — and nobody is denying a word. That includes the man himself and the Glazers. In this case, the sounds of silence speak rather loudly.
* That's three consecutive three-point losses for the Bucs, preceded by an OT setback in Green Bay. Close doesn't count in the NFL, but these  players don't look like they've given up on their head coach. That should be factored in, unless ownership has already decided Koetter's fate.
Ira Kaufman is the most revered sports personality and writer in town. He has hung his hat at JoeBucsFan.com world headquarters since July 2016. Tampa Bay's only Pro Football Hall of Fame voter, Ira busts out columns here every Monday, Wednesday and Friday, and his award winning podcasts fire Tuesdays and Thursdays. You can also see Ira every football Sunday at 10:30 a.m. on FOX-13, Scott Smith's Tailgate Sunday.