Gerald McCoy On Swaggy: "Whatever"
December 24th, 2017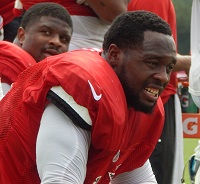 Chris "Swaggy" Baker, the Bucs' half-sack defensive tackle, who is half the player he was in Washington, was Sunday's most glaring goat in Charlotte.
With the game literally on the line, 45 seconds left with Carolina at 4th-and-3 on Tampa Bay's 5 yard line, Baker jumped offsides.
The rest is history.
But it's not that simple, Gerald McCoy was asked to confirm whether he warned Baker about Cam Newton using a hard count to draw the flag.
"Yes I did. Whatever. Moving On," McCoy said in the locker room.
But it's not that simple. Joe was told Baker had been telling the team to keep its eyes on Newton for that play but McCoy countered Baker and barked to the defensive line to just worry about staying onside and doing their job after that.
Apparently, Baker wasn't listening.
Joe wrote after the game about how Baker's time is up. That was apparent in OTAs, but as McCoy might say, whatever.