Ira Kaufman's 10 Takeaways From Bucs-Bills
October 22nd, 2017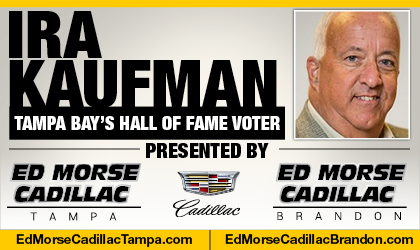 BY IRA KAUFMAN
I can't put it any better than Dirk Koetter:
"We let this one slip away."
This was a galling setback, in some ways more hurtful than the embarrassment in the Arizona desert. The Bucs simply didn't man up against the Cardinals. On Sunday, they didn't smarten up against a Buffalo team that was there for the taking.
This one stings like a yellow jacket, so let us count the ways:
* You can't roll up 27 points against the NFL's stingiest scoring defense and come away with a loss. That simply can't happen. Jameis Winston and his talented targets did an outstanding job facing a defense that had allowed only six touchdowns through the first five games.
* Koetter's career record as an NFL head coach fell to 11-11 as the Bucs remain in the NFC South basement following their fifth consecutive road loss. Those days were supposed to be over, but there they are, bringing up the rear with the start of division play dead ahead.
* I haven't forgotten about you, Mike Smith. Your group couldn't hold a 27-20 lead with 3:14 remaining. By the time I asked for a cup of coffee at Abe's Place in Clearwater, the Bills were sitting pretty, deep in Buc territory. Koetter said the defense failed to cover a wheel route. Why, Mr. Smith, why?
* Great TD catch and toe-tap by Mike Evans while Tampa Bay was reeling off a 21-3 spurt that appeared to give the Bucs control of this matchup. O.J. Howard capitalized on imaginative play calls and Cameron Brate, as usual, was a dynamic force over the middle.
* The Bucs were outgained 173-69 on the ground and Doug Martin's 20 carries were largely ineffective. I know Tyrod Taylor's 53 yards padded Buffalo's run stats, but that doesn't explain why Martin averaged less than 2.5 yards per attempt. This was an ugly throwback to Martin's forgettable 2016 season.
* Martin's not the only culprit in a ground game that is now averaging a paltry 3.6 yards per carry on the season. Left tackle Donovan Smith seems to be regressing in front of our eyes and Ali Marpet's growing pains at center continue to frustrate the coaching staff.
* You can't say the Bills didn't do their part to hand the Bucs a victory. Buffalo missed a 41-yard FG and screwed up the final seconds of the first half with awful clock management, potentially costing the home team another three points.
* It was good to see Lavonte David come up big with 14 tackles and a fumble recovery, but Kwon Alexander kept missing tackles and the Bucs allowed a popgun attack to complete six passes of at least 22 yards. Guess the soft coverage wasn't all the fault of Vernon Hargreaves.
* Hard to believe, but the Bucs brought basically a fully healthy team to Orchard Park, then left sick to their stomach as the Bills converted 10-for-16 on third down and rolled up 434 yards. All this from the No. 31 offense in a 32-team league. At this rate, that 3-4 defensive alignment hinted at by Koetter last week can't come soon enough.
* After 58 minutes, it all came down to stopping Buffalo on third-and-9 from the Tampa Bay 32. The Bucs couldn't do it as a flip pass and sloppy tackling allowed the Bills to move the chains and run the clock down. A stop there would have given Winston the ball back with 1:50 remaining — and he was feeling it. One stop. One third-down stop. Couldn't do it. Ballgame.
Ira Kaufman is the most beloved, revered and esteemed Buccaneers columnist in town. He has hung his hat at JoeBucsFan.com world headquarters since July 2016. Tampa Bay's only Pro Football Hall of Fame voter, Ira busts out columns here every Monday, Wednesday and Friday, and his award winning podcasts fire Tuesdays and Thursdays. You can also see Ira every football Sunday at 10:30 a.m. on FOX-13, Scott Smith's Tailgate Sunday.