Dirk Koetter & Jason Licht Want To Float
March 17th, 2017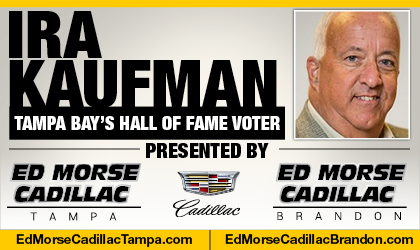 Ira Kaufman, aka The Custodian of Canton, pens columns for JoeBucsFan.com every Monday, Wednesday and Friday, and his award-winning podcast rolls twice per week. Kaufman spends most of his salary on Bette Midler records, tennis gear, and Dubonnet. 
BY IRA KAUFMAN
The man who holds the clipboard sometimes holds the fate of a franchise in his hands.
On paper, the departure of Mike Glennon might be viewed as inconsequential because Jameis Winston's backup didn't attempt a single pass in 2015 and tossed only 11 footballs last fall.
With Glennon now the clear-cut starter in Chicago, the Bucs are considering their options behind Winston, who has been remarkably durable during his first two pro seasons.
Ryan Griffin, who has never taken an NFL snap, received a $1.8 million tender from Tampa Bay as a restricted free agent. Although Griffin has had two years to learn Dirk Koetter's offensive scheme, his lack of experience makes him a dicey option if Winston is sidelined.
Winston has lived a charmed life in Tampa.
The Bucs are one of only nine teams that have used the same starting quarterback for each game since 2015. And although Winston will never be considered a running quarterback, he has taken his share of hits in and out of the pocket.
"You're just naïve, or deluded, if you think you can get by anymore with just one guy," says Chiefs coach Andy Reid. "It doesn't happen that way."
Glennon's experience helped Koettter sleep better at night, knowing the gangly backup had 18 starts since the Bucs selected him out of North Carolina State in the third round of the 2013 draft.
Life Preserver
The consensus around the NFL is that most teams have little chance to compete for a playoff spot if their starting quarterback goes down with a significant injury.
Just ask the 2016 Minnesota Vikings, who lost Teddy Bridgewater to a dislocated knee during training camp.
But what about an in-season injury that requires a backup to play three or four games and keep a team afloat?
That's the nagging concern in Tampa, where the Bucs are coming off a 9-7 season and expectations are high that the franchise will end a nine-year playoff drought.
Nick Foles, once known as a Buc-killer, appeared to be a nice option for Tampa Bay once he was released by Kansas City.
But the Eagles were more aggressive, bringing Foles back to Philadelphia with a 2-year deal for $11 million, with $7 million guaranteed.
"We think the backup quarterback role is an extremely important one, and we're glad to have Nick here in our room," says Howie Roseman, executive VP of football operations for the Eagles. "We didn't feel we were in position to wait on this. In a matter of days, we might not have been in the position to have Nick in this role, so we felt this was the right time to improve our football team."
Now the Bucs have to be wondering about their comfort level with Griffin. With only 16 regular-season games, a 1-3 stint with a backup quarterback could end up extinguishing Tampa Bay's postseason hopes.
"You want some security, some peace of mind, at the No. 2 quarterback position," says Bears coach John Fox. "It's become a very critical position."
If The Shoe Fitz
With his job on the line in Chicago, Fox has now tied his future to Glennon, a classy pro who never complained publicly about his backup role to Winston. The Bucs made a generous contract offer in an effort to keep Glennon from hitting the free-agent market, but he wanted his shot to start  — and it wasn't going to happen in Tampa.
So who is out there if the Bucs want more experience behind Winston?
Not much.
A list that includes Robert Griffin III, Geno Smith, Ryan Fitzpatrick and Case Keenum doesn't inspire much confidence, although Fitzpatrick makes some sense. He led the Jets to a 10-6 mark in 2015 and he has 116 career starts and 166 TD passes.
And while running back is the obvious glaring need for the Bucs heading into the draft, you can be sure Koetter and Jason Licht have spent considerable time discussing the No.2 quarterback situation.
"You'd better have someone in whom you've got faith, that you feel very comfortable with, and that you know can go in and perform," Reid says. "If you don't have someone like that, then you're playing with fire, and eventually you're going to get burned."