Brent Grimes: "You Can't Have A Bunch Of Independent Contractors Running Around"
January 9th, 2017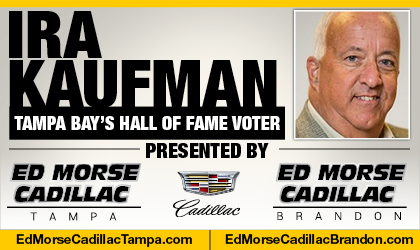 Tampa Bay's only Hall of Fame voter pens columns for JoeBucsFan.com Mondays, Wednesdays and Friday, and churns out his popular podcasts Tuesdays and Thursdays. Enjoy as Ira goes deep inside the locker room in today's offering.
BY IRA KAUFMAN
The Bucs developed mental toughness in 2016, but as Clint Eastwood said to Hillary Swank in Million Dollar Baby, "girlie, tough ain't enough."
This franchise is now a $1.5 billion baby, according to Forbes, and let's not forget Tampa Bay also made strides on the soft side en route to a 9-7 record.
After their first winning season since 2010, Buc players were quick to credit team camaraderie as a vital ingredient in their success.
"It's a tighter room and a tighter building to be honest with you," said veteran tight end Brandon Myers. "Our quarterback brings everyone along. We've got a quarterback here who is going to win championships."
Demar Dotson, the longest-tenured Buc, said he's never experienced this degree of team chemistry.
"This is a close-knit team, the closest I've seen in my eight years here," Dotson said. "A lot of it comes from our head coach and the character of the man. Dirk Koetter is a guy who says what he means. I love a coach like that. I think he's the man for the job."
Brent Grimes, who turned in a very solid year as a veteran free agent corner, compared the Bucs favorably to other organizations he has played for.
"This is a tight group and it was fun playing with these guys," Grimes said. "That's what this league is all about. You can't have a bunch of independent contractors running around. Guys have to be playing for each other — and we embrace that concept."
Several players credited Koetter for fostering a family atmosphere at One Buc Place.
"You can see the upward trend," tight end Luke Stocker said after his first winning season in the NFL. "We took a couple of steps back in December but finished on a high note. We all believed in Coach Koetter. We took the field each week believing we were going to win. That hasn't always been the case around here. Even when we were 3-5, coach believed in the process. He believed in what we were doing and there was 100 percent buy-in."
Hoop Happiness
It's no secret that a team-first mentality is a trademark of clubs that win on a consistent basis. Lone rangers must be weeded out as leaders emerge to police the locker room.
That is starting to happen in Tampa, at Koetter's insistence.
"Coach put it on the players," said Gerald McCoy. "He'd do his motivational talks and then tell us to stick together. The players stepped up big time, especially the vets."
Speaking of vets, the Bucs benefited from abandoning their long-standing policy of avoiding free agents who were at least 30 years old.
Vets like Grimes, Robert Ayers and Daryl Smith added experience and leadership to each layer of a defense that improved significantly in some key areas.
Koetter was smart enough to listen to his players when it came to team-building concepts. McCoy singled out Koetter's willingness to put up a basketball goal in the locker room.
No big deal, right?
Guess again.
"What does every player in the NFL want to be, or think they are?" McCoy asked. "A basketball player. This gives guys an outlet to just let it all hang out. Guys who didn't talk before, once that goal went up, everybody's personality began to come out. Little things definitely help."
As the Bucs move forward, GM Jason Licht is seeking to add talent and toughness to the roster through free agency and the draft.
But Licht also knows "tough ain't enough" when it comes to building a winning locker room.
"There's a lot of young talent here and this is a committed group of players," said Ali Marpet. "There's obviously a very bright future here. I'd invest in the Bucs."