Josh "Deep Ball" McCown
September 2nd, 2014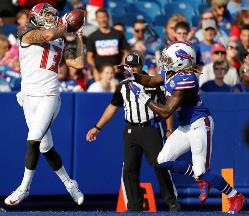 That's right. Your Tampa Bay Buccaneers gave journeyman Josh McCown the fattest contract he's ever seen to rifle balls downfield and go toe-to-toe with Drew Brees, Matt Ryan and Cam Newton.
Well, that might be a stretch, but a stat pumped out this week BSPN seems to back up the premise.
In his five starts and eight total games with Chicago in 2013, McCown was a deep-ball expert.
Josh McCown, Tampa Bay Buccaneers: McCown had the league's third-highest completion percentage (51.2) on passes 15 or more yards downfield last season. Seventeen of his 21 completions on such throws were to Alshon Jeffery or Brandon Marshall.
It was a small sample size, but it was clear McCown knew how to use his big targets. That type of offense, however, really wasn't shown by the Bucs in preseason. There was little thrown deep and Joe can't recall any 50-50 ball situations where Mike Evans or Vincent Jackson had a shot to go up and win the football from a defender.
File that under the secret offense that hasn't been rolled out.
Joe has high hopes for Evans, but Joe's a little concerned by how much the Bucs will rely on the raw rookie. There's not much quality depth in the receiving corps, and the Bucs probably need a big season from Evans to be a winning team.