Cheap Shot At ASJ
September 2nd, 2014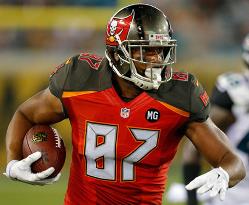 One of the many impressive new Buccaneers is rookie tight end Austin Seferian-Jenkins. Yes, Joe is impressed with he can do on a football field, but more so, Joe is overly impressed by ASJ the person.
Joe will never forget when after a practice in training camp, Joe remarked that ASJ sure seemed like he had a good practice, ASJ looked Joe straight in the eye as if Joe spit on him and said, bluntly, "I didn't come here just to be good."
Whoa. Love that drive.
No, Joe doesn't pretend to know ASJ. He comes across as really intelligent, really good in the locker room, and totally driven.
So yesterday, it seemed odd that pedestrian-bumping, olive oil-lapping, popcorn-munching, coffee-slurping, fried-chicken-eating, oatmeal-loving, circle-jerking, beer-chugging, cricket-watching, scone-loathing, college football-naïve, baseball box score-reading, NPR-listening, filthy-hotel-staying, fight-instigating, barista-training Peter King, of Sports Illustrated and NBC Sports fame, seemed to have a slap at ASJ when discussing the Logan Mankins trade, suggesting the key to the trade is not what Mankins will do for the Bucs, or what former Bucs tight end Tim Wright, swapped in the trade, will do, but what the Bucs rookie tight end ASJ will do.
If Austin Seferian-Jenkins matures into a great player and keeps his head on straight, Tampa Bay should have a tight end of the future. Otherwise, they could regret giving up on a bright prospect like Wright.
Again, Joe isn't suggesting or trying to pull the wool over someone's eyes claiming he knows ASJ. He doesn't. But just from dealing with him at One Buc Palace, what King suggests is not the case whatsoever.
Granted, it is very early in ASJ's career. Thus far, Joe has been wowed with his play and his ability to be a dangerous mismatch on linebackers and cornerbacks. Joe just doesn't see what King believes ASJ to possibly be.