"He's Up To Speed"
September 4th, 2014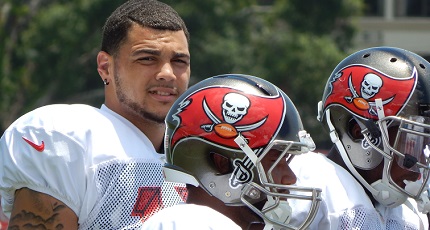 Vincent Jackson wasn't talking about any kind of learning curve for the Bucs' first-round draft pick today.
No, V-Jax was clear he expects big things from rookie wide receiver Mike Evans, who will line up opposite him on Sunday. Jackson talked about how Evans has been a model student and said "he's up to speed" now, as he still continues to grow and learn.
Evans turned 21 a couple of weeks ago, and he wasn't asked to master much at Texas A&M. Throw in playing limited football in high school, and Evans almost defines the term "raw."
And thus, Evans will be a huge X-factor in the Bucs' season. Will he play like a rookie, or will the Bucs get big-time production? One could ask the same thing about 21-year-old tight end Austin Seferian-Jenkins, who the Bucs surely will count on to produce in the red zone with his giant body.
Without serious production from those rookies, the Bucs offense has little hope of being average.
You can hear all of V-Jax's comments via 620wdae.com audio below.