Can Mike Jenkins Pull A Tanard Jackson?
September 4th, 2014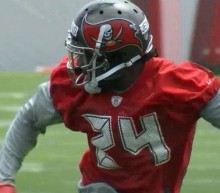 One of the most amazing feats in recent Bucs history was performed by bong-friendly Tanard Jackson, and it seems the current Bucs regime is hoping cornerback Mike Jenkins can duplicate it.
Back in 2011, the Bucs were 3-2 and taking on the mighty Saints and Drew Brees at home. 
Five days prior to kickoff, Jackson was reinstated by the NFL after a 56-week suspension.
And what did Jackson do? He walked off the street and into the starting lineup, intercepted Brees, and had five tackles and a deflected pass. The Bucs won the game and moved to 4-2 before the entire team imploded.
Joe remembers Ronde Barber raving about what a special player Jackson was to be able to walk off his couch and perform at the highest level.
That brings Bucs fans to Mike Jenkins, who limped off the Tampa Bay training camp field in late July with an undisclosed "upper leg" injury. Jenkins spent all of camp and preseason wearing a floppy hat and sneakers. But he returned to practice Monday and Lovie Smith has consistently talked about Jenkins being a starter. Jenkins has never even been out of the starting spot on the team's depth chart.
(Joe doesn't get the obsession with Jenkins, who hasn't been a good player in years. But that's a story for another day.)
Will Jenkins be physically ready to play after all that time off? Lovie sure seemed to think so, based on his comments early this week.
Today, defensive coordinator Leslie Frazier didn't sound as optimistic.
"This week, we're just trying to get a feel for where he is physically more so than anything. He was always in the meetings and attentive in what we are trying to get done. But the physical part, we're still trying to get some of those questions answered here in practice," Frazier said before practice.
Joe has talked to enough NFL players and coaches over the years to know what Jackson pulled off three years ago was nearly an impossible miracle. His body broke down soon after during that season.
NFL types call it "football shape." Players need to practice and take a few shots before they're ready to start and play a full game.
Joe's not sure if Lovie will start Jenkins over Johnthan Banks on Sunday. Joe sure hopes not. Banks had a strong summer. That Barber guy thinks so, too.