Jonathan Vilma Rips Former Bucs O-Line
August 28th, 2014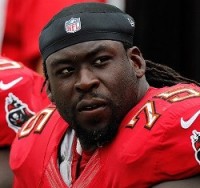 Former Saints Pro Bowl linebacker Jonathan Vilma (2008-2013) looked into a national TV camera the other day and stomped on the reputations of Donald Penn, Davin Joseph, Jeremy Zuttah, Demar Dotson and other former Bucs offensive linemen.
Listening to Vilma, it's a wonder Tampa Bay won any football games.
Speaking on  NBC Sports Network, Vilma was asked about facing the old Bucs offensive line versus the current bunch.
"You know, they were definitely at the bottom of the pack as far as O-lines that we faced. We looked at them, we said, 'Athletically, they weren't there. They're communication wasn't there. The leadership wasn't there,'" Vilma said.

"We would do simple stunts, move a defensive linemen, cross games, they didn't 'have an answer to it. So finally you get a guy like [Logan] Mankins with the ability, with the knowledge, with the veteran leadership he should bring, and they should shore up some of those issues."
Man, talk about kicking a unit in the balls. Vilma laid some low blows there.
You can watch the video below. Former NFL offensive linemen Ross Tucker is pumped up about the Bucs' acquisition of Mankins, calling Evan Dietrich-Smith and Anthony Collins average players that need a special guy on the line.