Calling Michael Johnson
August 17th, 2014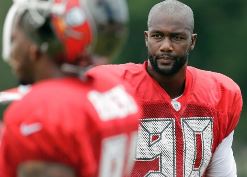 The warm and fuzzy, happy-to-double-our-win-total crowd may not care about a prized Bucs defensive end looking anemic in the preseason, but Joe can't ignore it.
So far, the real Michael Johnson, the one Tampa Bay paid handsomely, hasn't shown up.
In his postgame news conference last night, Lovie Smith insisted Johnson will come on and have lots of sacks and make plays this season. Hey, Joe's hoping and praying that happens. And no, Joe's not talking about "making plays" like the easy fumble recovery Johnson had tonight, when he was in his usual position — a few yards from the quarterback.
Yes, Joe has high expectations. Lovie himself has spoken repeatedly about how the edge rusher is critical in his defense.
Heck, that's why Lovie paid so much green for a guy coming off a 3 1/2 sack season in Cincinnati. The investment was about Johnson's ceiling as an edge rusher, Lovie said, not about the numbers Johnson posted or the sacks that didn't fall his way.
Bucs fans saw Gerald McCoy rip through double teams last night and absolutely dominate poor Dolphins starting right guard Dallas Thomas. Johnson was invisible, as he was against Jacksonville. He hasn't done much to speak of in practice, either.
Lovie and Jason Licht have each said repeatedly — and with pride — that it would be unfair to expect Bucs fans to be patient. That's one reason Lovie and Licht were so aggressive in free agency, they said, and their initial target was Johnson.
Yes, Joe expects Johnson to produce. Maybe not now, but it must happen out of the gate on opening day. There are no excuses.
Johnson is playing alongside one the greats of the game in a defense that pretty much only demands defensive ends beat the guy in front of them and dump a quarterback a few times a month. That shouldn't be tough duty for a big-money, healthy, 27-year-old veteran.