Big Piece Of Offense Won't Be Practiced Much
August 1st, 2014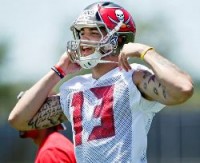 Bucs fans fantasize that the Tampa Bay offense will hum with Vincent Jackson or Mike Evans drawing single coverage and Josh McCown will hurl a well-placed jump ball to be plucked out of the sky, and over the outstretched arms of a too-short cornerback.
The Bucs are expecting that, too.
But it's not something that will be practiced much. It's a chemistry and a timing that will have to just happen — fast.
McCown explained to Joe yesterday.
"I mean, it's hard, because you want to be careful in practice when you start throwing the 50-50 balls and stuff like that and getting guys jumping up against each other. That's a scary deal," McCown said. "So you have to be careful with that, but you can practice it. There's still a way to get that done without risking injury. So we definitely spend time doing that. That really more materializes in games when it's live competition and the guys are going up and making plays on the ball.

"There's a way where put the ball and so on and so forth. We're getting there. We do some of that stuff, but it's hard to really get the full thing of it in practice."
It's no shock the Bucs are playing it safe in practice, though there have been go-get-it throws to Evans and Jackson in the back of the end zone during red zone work the last couple of days. Jackson has looked sharp and in sync on those; Evans has not.