Lightning Zaps Practice; Date Won't Be Made Up
July 25th, 2014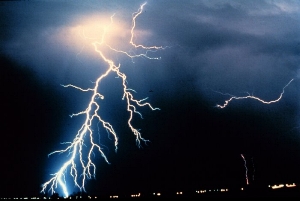 Opening day of Bucs training camp amounted to about 30 minutes of training and about 30 minutes of practicing. Lightning delayed practice at One Buc Palace and a second series of bolts cleared the fields of One Buc Palace for good.
Lovie Smith waved the white flag.
There will be no makeup day and no panic, Lovie told media after the game.
Lovie explained that he's not about to freak out over a lost practice, saying he lost workouts with the Bears because of rain and remembers washouts during his days with the Bucs.
The Bucs will be in pads and hitting each other on Sunday, with Saturday's practice on track for its regular start time, 4:30 p.m.