Lovie Names His Top Guards Out Of The Gate
July 25th, 2014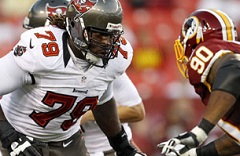 Not much happened at tonight's lightning-abbreviated practice, but afterwards there was plenty of action (stick with Joe for all kinds of goodies tonight and tomorrow).
Speaking to assembled media, Lovie Smith named his top guards in his starting rotation for training camp practice — for now.
(Drumroll) … Jamon Meredith at left guard and Oneil Cousins at right guard.
A little background
Oneil Cousins — Journeyman picked up this offseason. Nine starts in six NFL seasons. One former Buccaneer is horrified by his game film.
Jamon Meredith — Schiano holdover was pretty solid all through 2012 at right guard filling in for Davin Joseph. Last year? Not so good. But Meredith was one of three unrestricted free agent Buccaneers the Bucs decided to re-sign.
Joe doesn't expect any celebrations from Bucs fans hoping for a punishing running game, or from those mourning the loss of Carl Nicks. But relax; it's early. Really early.