Lovie And The Circle Scream
May 21st, 2014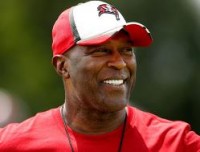 One of the more bizarre sights at Bucs practice yesterday was hard to see.
But you sure could hear it.
Rather than roll in the popular, ear-piercing crowd noise machine, Lovie Smith decided to employ a more human touch. He had much of the giant spring roster circle Connor Barth and scream at him while he practiced a few kicks.
There's a good look at Hardy Nickerson and DaQuan Bowers getting into it together on Buccaneers.com. Here's the link.
Joe wonders whether it was just noise, or whether creative insults or mama jokes were hurled at Barth?
Regardless, it was an interesting tactic by Lovie and likely a creative bonding moment.