What Kind Of Teammate Is Alterraun Verner?
April 23rd, 2014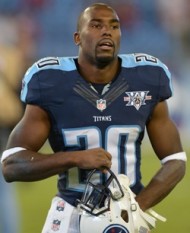 New Bucs Pro Bowl, big-money cornerback Alterraun Verner spent his first four seasons in Tennessee, and Joe, like many Bucs fans, doesn't watch much Titans football.
So yesterday Joe set out to ask new Bucs wide receiver Lavelle Hawkins (a three-year teammate of Verner) just what Verner is like to play with. The "S" word came out, as it usually does when you talk to those familiar with Verner.
"Verner, man, smart guy," Hawkins said. "Very athletic. Patient. He's smart. Verner picks up on like any little thing that you do. The things that we tried to hide in practice [in Tennessee] Verner would pick up on. You know he's definitely a competitive, smart guy. Great teammate, just a guy you could always come to as a receiver to learn from. To aks him, "Verner, how did you pick that off. Explain what you did?" A great all-around, approachable guy."
Perhaps Verner's smarts are why Bucs cornerbacks coach was teaching Verner so passionately yesterday on Day 1 of practice?
Maybe it was also to show the other cornerbacks that everyone, even Pro Bowlers, will be taught and held to the highest standards?? (If you missed Joe's look at Verner getting coached up yesterday, you can click here.)