Reflecting On The Decision
April 3rd, 2014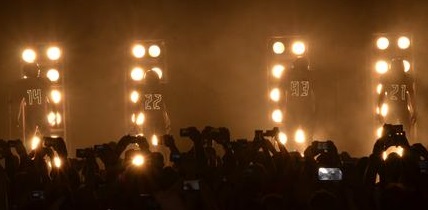 Joe must admit he has come around to the Bucs' new uniforms. They've got sizzle in person, and they just might be a made-for-TV sensation.
The photo above is not a bunch of bizarre, jersey-clad robots. These are Buccaneers players shot at the team's wildly successfully uniform unveiling for season ticket holders Friday. The lighting was staged to highlight the reflective numbers on the new jerseys.
This really got Joe thinking about what the jerseys will look like in HD under the usual bright lights of an NFL game — day or night. It could be a huge hit with the legions of people who apparently care deeply about jerseys, gear and cool looks. Imagine the sweet sight of a glowing Michael Johnson chasing down Drew Brees on Monday Night Football, or a sparkling Johnny Football slicing past Greg Hardy to move the chains?
Joe also can imagine a bunch of college-age Bucs fans sitting around wearing their jerseys in a dark room with a black light on, smoking pot, listening to Three Days Grace and thinking about the recent tough times of Bucs fans.
Joe's got a good feelings about these jerseys.