"Harping On That Since Day 1"
April 13th, 2014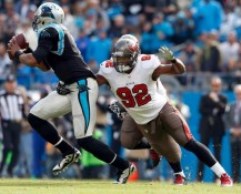 So what's going on inside Lovieball after new head coach Lovie Smith has spent seven days with his team?
More clues and comments are dribbling out, and the de-feathered "Hawk" offered a couple of chirps to Buccaneers.com.
Dashon Goldson, the former All-Pro safety and current target of Roger Goodell, spoke in this video about how there's huge emphasis on getting to quarterbacs, saying the new regime has been "harping on that since Day 1."
Boy, wouldn't that be a breath of fresh air, a Bucs team striking fear in quarterbacks. Joe hasn't seen that raw fear since Greg (aka Stylez) White burst onto the scene in 2007, with eight sacks and seven forced fumbles in part-time duty.  The Bucs were No. 1 in the NFL against the pass that season and had the second-ranked defense in the league.
How much is Lovie emphasizing pass rush? In the same video, Bucs defensive line coach Joe Cullen said of the Bucs' D-line. "We have to be the leaders of the organization," Cullen said. 
Also interesting to Joe was Goldson saying he felt the Bucs' new strength staff was doing some "pretty intense" stuff, seemingly more than he's used to. Goldson is a bit of a workout nut, so that's a great sign.