Is Doug Martin Safe?
April 13th, 2014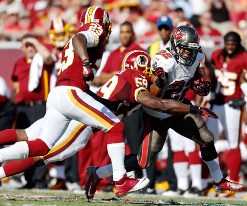 Before Bucs fans start hunting Joe with pitchforks here, know up front that the following is a reasoned take:
Joe would not wager on Doug Martin's future in Tampa Bay.
Martin is a special talent, a guy who had a stunning rookie season followed by a rough season ended by injury. Yes, Martin was not special last year. He fumbled. His timing was off in the passing game and he dropped passes. He often struggled to find holes. And you could easily make the case that both his backups, Bobby Rainey and Mike James, outperformed him on the field. 
Joe likes and respects all things Martin, but Joe's wondering just how highly the Bucs regard him.
General manager Jason Licht will tell you how much influence his years under Bill Belicheat had on him. And Belicheat absolutely leads the growing charge in the NFL of devaluing running backs. No backs were taken in the first round last year. Darren Sproles was had for a song this offseason. Good backs and great running backs routinely found late in the draft.
In 2011, the Patriots drafted two backs, Shane Vereen late in the second round, and Stevan Ridley late in the third.
Joe's not saying the Bucs are eager to deal Martin, but Joe thinks the Bucs might be tempted by a team that still might value running backs more than most. Licht's background is a factor. And Joe is confident Lovie thinks James is a special talent. Multiple times in person, Joe has witnessed Lovie's body language when he speaks of James, and it stands out.
The Bucs could be tempted to use Martin in a move to trade up in the draft, or to trade him if they could get, say, a second- and a fourth-round pick. Maybe that trade is next month, or at the trading deadline, or next season.
Just don't discount how NFL hierarchy collectively believes good running backs can be had on the cheap. Also remember that the new Bucs regime isn't married to Martin, no more than they are to any other former member of the New Schiano Order.
Yes, Joe realizes James is coming off an injury, as is Martin. No movement is imminent. But don't be surprised if the Bucs have a bold move like this on their radar. It's clear this regime is looking at every possible angle.