Either Edge Works Fine For Mack
April 25th, 2014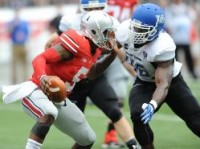 So what would happen if the Bucs drafted former University at Buffalo beastly linebacker Khalil Mack in 13 days?  This morning, Joe was able to confirm from a high-ranking Bucs official that the organization is very confident Mack can rush the passer well off the left edge, as well as the right side.
That's important, given that free agent defensive end Michael Johnson will be entrenched at right defensive end for at least a couple of years.
Mack, as Joe reported Wednesday, visited the Bucs this week.
There's surely an outside shot he could fall to Tampa Bay at No. 7. Joe does not buy the widespread chatter from various draft gurus who claim teams desperate for quarterbacks — and drafting before the Bucs — will pass on the likes of Blake Bortles, Teddy Bridgewater and Johnny Football. Joe would be stunned if that happened. So for that reason, Joe believes there's a shot Mack is on the board when the Bucs are called.
Joe's not claiming the Bucs desire Mack, only that the team's scouting report makes Mack a fit in their defense — ferocious strongside linebacker turned edge rusher on passing downs.