Setting The Record Straight On Revis
March 12th, 2014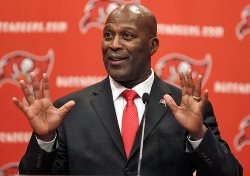 When your website regularly gets 25,000+ sets of passionate eyeballs visiting daily, it's expected that a chunk of those people will think you're a complete moron — along with those who think you're a genius.
That's how life is for Joe, who is constantly being called an idiot and a blessing. That's just fine, but Joe feels the need to set the record straight this morning as it relates to soon-to-be ousted, all-world cornerback Darrelle Revis.
On Jan. 1, literally minutes after Lovie Smith was hired, Joe wrote this story that dove into the reality that Lovie likely would want to boot Revis and his salary to gain extra salary cap room for more players. Joe was roundly criticized by the analysis, which was the first of its kind in the media.
For example (keyword, "example"), the Bucs could probably sign 2014 Pro Bowl cornerbacks Brent Grimes and Aqib Talib for less than what Revis would cost, and they'd get the extra draft pick.  

The Revis trade in April was a win-now move for the blitz-happy New Schiano Order defense, but it may not be viewed as such by Smith and his eventual general manager.

Of course, Smith could always get creative and find ways for Revis to be more effective than he ever was with the Jets. But who knows?

Joe likes Revis and was impressed by what he offered, outside of a couple of apparent loafs in the season finale in New Orleans. Smith, however, might have other ideas one what it will take to bring the Bucs a ferocious defense — and Smith will get what he wants this offseason.
Writing the above excerpt on New Year's Day didn't mean Joe wanted to ditch Revis, just like Joe now expressing that he would have rather kept Revis for 2014 doesn't mean Joe thinks Lovie can't or won't win without him.
Joe doesn't hide from his opinions — past and present — and Joe's unafraid to change his analysis as factors change. Loving and thinking Bucs football 24/7 is a fluid analysis. Sharing takes, respectfully arguing, debating, agreeing and disagreeing is what makes it all fun.
Yes, in the coming days, Joe will shake his head and wonder loudly what could have/would have been with Revis in the fold for 2014. It's Joe's right as a passionate fan. Just understand that Joe fully understands the business of the NFL and don't confuse what Joe wants with what Joe thinks Lovie and Jason Licht will do.