Bucs Dodged Free Agent Trap
March 12th, 2014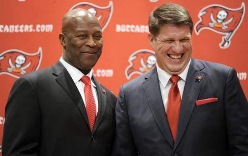 Joe wants to say the Bucs won opening day in free agency, but really, when was the last time a team that won free agency made a legitimate run at a Super Bowl? The path to earning high draft picks is often taken by a team that went wild in free agency (yes, Joe is looking at you, Danny Snyder).
Aside from the Revis situation — Joe doubts he will ever get over that — it's easy to argue the Bucs had a great day yesterday.
Why, it almost, almost, makes Joe sense that almost every position has been sealed up, positioning the Bucs to grab Johnny Football at No. 7.
One of the traps many teams overactive teams in free agency fall into is getting players past their primes, players 30 and older. As Joe is always fond of saying, it's a red flag when playoff teams let players walk. But Bucs beat guy Tom Krasniqi of WDAE-AM 620 says birthdays suggest the duo of Bucs coach Lovie Smith and general manager Jason Licht played yesterday's transactions wisely.
@TKras: Another positive about Bucs signings– they're young: DE M. Johnson (27), CB A. Verner (25), DT B. McDonald (27), TE B. Myers (28)
All players that should be entering or are in the prime ages of their athletic lives.
Time will tell, of course, if the Bucs hit the jackpot with yesterday's (and today's) signings. It might be two or three years. If you see Joe's mugshot in two years, it likely will be because of a hassle with the cops after Joe's neighbors heard him freaking out watching Revis return a pick for a touchdown in a conference title game.