Forget DeSean Jackson
March 28th, 2014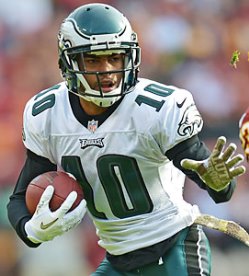 Yes, the rumors became fact today. The Eagles cut loose talented wide receiver DeSean Jackson. It's a stunning move given that Jackson is coming off the best year of his career with over 1,300 receiving yards and is but 27, in his prime.
It seems, however, Jackson's off-field issues became too much for the Eagles to stomach. The Los Angeles police, via Eliot Shorr-Parks and A.J. Perez of NJ.com, believe Jackson has deep gang ties to the Crips, and may have a hand in criminal activity.
Now Joe was getting peppered on Twitter about how Bucs general manager Jason Licht and coach Lovie Smith may be interested in Jackson. Hey, they are supporting Mike Williams and Lovie embraced Brandon Marshall in Chicago, these same pro-Jackson Twitterers reasoned.
But from the fingers of Rick Stroud of the Tampa Bay Times, L&L have no use for Jackson with the Bucs.
@NFLSTROUD: For those asking, I'm told there is ZERO chance the Bucs will have an interest in WR DeSean Jackson as a free agent.
So there you have it. Quit dreaming of the Bucs grabbing Jackson, who was coached in college by current Bucs offensive coordinator Jeff Tedford. As Shaun King, one of only three Bucs quarterbacks to lead the team to an NFC championship game, Twittered, the lack of support for Jackson from his now former Eagles teammates speaks volumes.
For evidence, consider Eagles offensive lineman Jason Kelce's kiss goodbye to Jackson on Twitter.
@Jkelce: We just made an extremely unpopular decision, but I couldn't be more excited and happy with where this organization is going!! #FlyEaglesFly
It is interesting that Jackson's biggest supporter seems to be that bum who stole money from the Bucs, former NFL running back Derrick Ward.