NFL Teams Need The "25-Foot Putt"
February 13th, 2014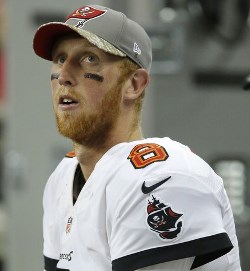 As Joe is watching national TV news this morning and seeing just about everyone along the eastern seaboard north of Valdosta digging out from yet another wintry mix of snow and ice — damn, Joe counts his blessings every day living in an area where a snow shovel is but a rumor — Joe brings the final installment of his interview with legendary former Dallas Cowboys personnel man Gil Brandt.
Today, Brandt talks about how important it is for NFL teams to have a successful quarterback.
JoeBucsFan: Some theorize that in the NFL today, a quarterback-driven league, if you have the worst quarterback in your division, then you are pretty much SOL. What do you think about that theory?

Gil Brandt: I think the theory is pretty sound. I think this is very, very much a quarterback-driven league. I think all we need to do is see the teams that are in the playofs, and they all pretty much have good quarterbacks. I think that is a common thing: Someone that can make plays. I think the competitive balance in this league is such that you need somebody that can make the 25-foot putt.
For the Mike Glennon Mob: Joe is not anti-Glennon. Joe is pro-getting the best out of the position. If the braintrust of the Bucs decides Glennon is the answer at quarterback, Joe hopes the guy throws 30 touchdown passes and leads the Bucs to January games. At home, even.
Yes, Joe is weary of typing about Glennon. But quarterback chatter is compelling and Bucs fans crave it. Alas, the combine is just around the corner.