Lovie Hasn't Done Much Scouting
February 23rd, 2014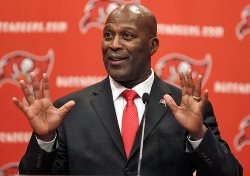 The Buccaneers' new commander is very much a fresh set of eyes at the NFL Scouting Combine in Indianapolis.
Lovie Smith says he had previously devoted scant time to preparing for the NFL Draft.
Speaking at the combine, Smith told Buccaneers.com reporter Scott Smith that he's been busy on more pressing matters.
"I've done very little as far as looking at college athletes. Right now, it's been mostly devoted to the unrestricted free agency period, getting ready to start," Lovie said.
Of course, Lovie's also been busy evaluating the Bucs roster — who will say and who will go.
In what should surprise no one, Tampa Tribune veteran Roy Cummings shared on Twitter that after talking to Lovie and general manager Jason Licht he expects at least half the Bucs roster to be purged.
Surely there will be big names among the cuts. Joe's merely warning fans who expect Lovie to right the ship with largely the same crew.
Damn, what Joe wouldn't give to know Lovie's real thoughts on the roster and potential new Bucs. Answers are coming when the free-agency bell rings on March 11.