Is Jadeveon Clowney Tumbling?
February 24th, 2014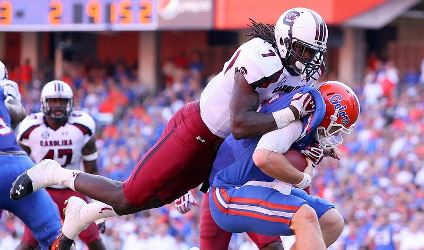 For the better part of two years, it has been almost a sure bet that South Carolina defensive end Jadeveon Clowney was going to be the first defensive end picked in the 2014 draft. That theory seemed a lock since he blew past Michigan left tackle Taylor Lewan (one of the few times Clowney worked Lewan that sunny afternoon in Tampa at the Outback Bowl) and splashed Wolverines running back Vincent Smith, snapping his helmet into midair, jarring the ball loose. Clowney recovered it to seal a Gamecocks win.
For reasons unknown, Clowney did not duplicate that hit this past season; he did not play up to the hype for South Carolina. Sure, he was a marked ban, but in the SEC, even marked men separate themselves, such as Johnny Football, who had better numbers as a junior despite every defensive coordinator scheming to stop him.
Clowney's season was so subpar (for his standards) his coach, Steve Spurrier, griped most of the season, hinting Clowney already was counting his NFL money.
Aside from his inability to read speed limit signs, Clowney has not had any major brushes with he law but it sure felt like at the NFL Scouting Combine this past weekend, his stock was slipping from potential No. 1 overall to perhaps being on the board when the Bucs pick at No. 7.
Woody Cummings of the Tampa Tribune was not the lone person to smell this scent when he Twittered out the following prediction.
@RCummingsTBO: I have one word for USC DE Jadeveon Clowney: tumble. As in, I get a feeling his draft stock is going to tumble after the combine
This past week, when given the chance to prop up Clowney, Spurrier shrugged his shoulders and called his work ethic "OK." Joe learned when Clowney had his combine media session, his answers seemed so flippant early on, a longtime Steelers beat man walked away saying he had heard enough, that the Steelers would never draft a man like Clowney.
The most damning of all came from none other than the great Mike Mayock, NFL draft guru extraordinaire. He has repeatedly said he would draft Buffalo's OLB/DE Khalil Mack with the first pick of the draft. Yesterday, in his end-of-combine wrap-up presser, Mayock had the following to say when pressed about Clowney.
"Look, he is an interesting deal. The average I think for a defensive lineman in the bench press was 24. So should Jadeveon Clowney have more than 24? Sure he should. However, he has long arms. And I always say to people it is the shorter, barrel-chested that rep-out the most. But does it go to work ethic? I really don't care. And by the way, if he runs 4.42 or 4.62 [Monday] I really don't care. I think I knew what he already is. He is the scariest, freakiest physical specimen I have seen since I have been doing this as a potential upside defensive lineman. However, that doesn't mean I am saying he is the best defensive lineman in the draft or the best player in the draft because he worries me with some of the red flags."
So Bucs fans (some of you), you may be getting your dream. It's possible that a Clowney tumble could make him available for the Bucs.
Now the question is, could Lovie Smith motivate him to be the best he can be — better than Spurrier could? Or would Clowney be content with a signing bonus as a rookie, a waterfront home and trying to coast his way through an NFL career?