Joe Is At The Combine
February 20th, 2014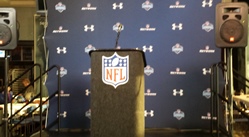 Hello from warm (yes, for February in central Indiana, warm, pushing 60!), rainy, windy, gloomy Indianapolis, where Joe is typing from Lucas Oil Stadium as the 2014 NFL Scouting Combine is about to start.
Things kick off with a bang with Dolphins head coach Joe Philbin talking at 9:45 a.m. Gee, wonder what he will be asked about?
Bucs coach Lovie Smith takes the podium (one of three here) at 1:15 p.m. and Bucs general manager Jason Licht arrives at 2.
Over the next four days, check back early and often. Joe will try to overwhelm you with news from Bucs people and, of course, the hundreds of players the NFL will trot out for us beer-swilling, free-food-scarfing scribes to pester.
Joe is looking forward to this and hopes you are too.
Caution: Reporters do not have access to the stuff on the field during the NFL's glorified indoor track practice (well, very limited access). Readers who want to know times, etc., will see much more on the NFL Network than Joe will see at Lucas Oil Stadium.