Standout "Command" Of Mike Glennon
February 20th, 2014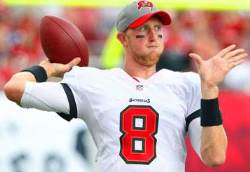 Throw away the spreadsheets and Mike Glennon's easily-spinnable-in-any-direction statistics, this young quarterback is a standout leader.
Those are the words of a man who was up close and personal with Glennon all last season.
Among other accolades, recently cut Bucs guard Gabe Carimi said Glennon was "ridiculously calm" in his leadership role as a rookie. Speaking on SiriusXM NFL Radio this week, Carimi went on to explain that Glennon quickly and impressively shed rookie inhibitions and became a firm field general.
Carimi praised Glennon's "command" later in the season, including orders and leadership to the offensive line.
That's awesome to hear, but Joe has trouble seeing past Glennon commanding units that were woefully underperforming. Joe almost would have been happier to hear Carimi say Glennon didn't yet blossom into a leadership force, which would have been understandable.
Regardless, new Bucs offensive coordinator Jeff Tedford has a big decision to make. There's no question in Joe's mind that Lovie Smith will let Tedford pick his quarterback and determine the team's direction in pursuing QB. So the question is whether Tedford will let his big shot in the NFL rest on the arm — and legs — of Glennon.