Anthony Barr: Lost In The Shuffle
February 24th, 2014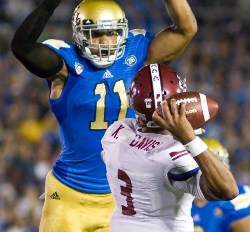 Not long ago, Joe mocked the mockers for suggesting the Bucs would draft an outside linebacker with the seventh overall pick. It frankly made no sense.
Then, the great Mike Mayock explained that a stud outside linebacker who is also a tremendous pass rusher could stay on the field at all times; playing outside linebacker on run plays and lining up at defensive end on pass plays.
Right away that made all the sense in the world why many mockers thought the Bucs would be all over Khalil Mack of Buffalo.
But this scenario also overlooks another guy who could do just about the same thing as Mack, and that would be Anthony Barr. The UCLA linebacker is thought by some as the best 43 outside linebacker in the draft, but he has shown a strong ability to rush the quarterback.  He like Mack,, during his media session at the NFL Scouting Combine, said he believes he can put his hand in the dirt and play defensive end.
"I'd say yes," Barr said. "I feel comfortable at this weight, but if a team would ask me to put on weight and put my hand on the ground I'm doing that."
In short, he wants to be thought of as the west coast version of Jadeveon Clowney.
"I haven't really watched any tape on him," Barr said. "I'm very comfortable rushing the passer. I continue to say there's a lot I need to work on. But to be mentioned with Clowney is pretty cool."
Barr is nothing if not flexible. He started out as a running back for the Bruins and about 30 percent of the time, he said, he would drop back into pass coverage.
The Bucs selecting him would mean he convinced Jason Licht and Lovie Smith that he can rush the quarterback as a defensive end.