"It's Not Real Talented, Folks"
February 24th, 2014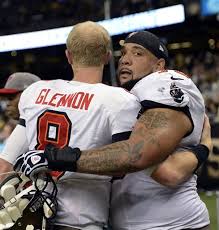 Back on the WDAE-AM 620 airwaves after spending time with Lovie Smith in Indianapolis last week, Bucs beat writer Rick Stroud was busy this morning defending the Tampa Bay Times' attack piece on Mike Williams and emphasized to Bucs fans that the Lovie regime is rather queasy about its current roster.
"Here's the one impression I came away with from Lovie Smith, just in general about this team: It's not real talented, folks," Stroud said. "Ok. Like, they're starting over on offense. Starting over. Starting with the offensive line, going to the quarterback and everybody else. And yes, that can very well include wide receiver."
Considering the Bucs' offense was ranked last in the NFL last season with a raw quarterback with limited skills, and with an offensive line that underperformed, it is no surprise that Lovie is ready to start fresh. It would be surprising if Lovie thought he could resurrect the offense with, say, just a new No. 3 receiver and a little shuffling on the offensive line and a blocking tight end.
Joe's starting to really think the Bucs are going to pursue Browns Pro Bowl center and expected free agent Alex Mack.
Aside from Mack's talent, and the fact he played years under the Bucs' current offensive line coach, George Warhop, signing him would free up Jeremy Zuttah to compete at guard and/or fill the role of versatile sixth lineman. Zuttah can play every position, has stayed healthy, and he is a reasonable value at $4 million for 2014.
Keep in mind the contracts of Zuttah, Donald Penn, Davin Joseph and Demar Dotson are not guaranteed for 2014. Joe's confident all those guys, if they're still here when the Bucs report back in April, will have serious competition in camp, competition they haven't experienced in years.
(You can listen to Stroud's full take below.)