A Second Bucs Interview For Jimmy Garoppolo
February 22nd, 2014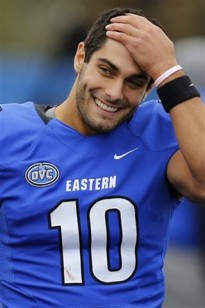 There's been big hype for the small-school quarterback out of Eastern Illinois. Jimmy Garoppolo has been impressing scouts for weeks on various levels, and many view him as a second-round talent.
Garoppolo was interviewed by the Buccaneers at the East-West Shrine game last month, and Joe confirmed the Bucs interviewed Garoppolo again Thursday night.
Buccaneers QB coach Marcus Arroyo did the honors. Joe's source is Garropolo himself, who talked to Joe at the NFL Scouting Combine in Indianapolis. Garropolo's a confident kid from the school sent Sean Peyton and Tony Romo to the NFL.
On what he's hearing from NFL teams, Garropolo said, "They like that I get the ball out quickly."
As Joe's written previously, Joe sees Garropolo as more of developmental project, much like Romo was. (Hear an excerpt of Joe and other reporters chatting with Garropolo yesterday. An audio assist to 620wdae.com.)