Do The Bucs Want "Gold?"
February 22nd, 2014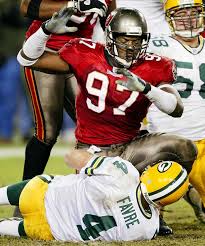 Joe's already written about how when talking man-to-man with Bucs general manager Jason Licht on Thursday in Indianapolis, Licht lost any semblance of a poker face when chatting about linebacker/defensive end prospect Khalil Mack, the pride of the University of Buffalo.
But that's not a big deal, because it seems Mack is the recreational drug of choice among scouts and GMs.
Big headlines are on NFL.com this morning after the NFL's premier in-house draft guru, Mike May0ck, told a Minnesota radio station that Mack is the best overall player in the draft.
Would the Bucs and Lovie Smith possibly pass on the draft's top defensive player, assuming that is Mack?
That would be hard to fathom, though it could be a tough question, given that Mack is considered a 3-4 defensive end who could quickly excel at strongside linebacker in a 4-3 defense. But it's his edge-rush ability driving his value. Teams desire sacks as much as Joe yearns for blondes and pizza on a Saturday night. Yet there's still a chance Mack falls to the Bucs at the No. 7 overall pick, if a team prefers defensive end Jadaveon Clowney.
Something Mayock said about Mack early this week really intrigued Joe on a different level.
Q.  Can you elaborate more on [Khalil] Mack?

Mike Mayock: Yeah, I put the tape on not really knowing what to expect. I knew he had a lot of positive reviews from around the country. But first tape I put in was Ohio State, and he blew them up.  He made plays all over the field, on the edge, dropping into coverage, explosion, hustle. Then I think the next tape I put in was Kent State and he made a one‑handed interception. He runs like a safety. He explodes off the edge. From my perspective in today's NFL, guys that have natural edge rush ability are like gold; you've got to get them when they are available. I think he's one of the elite edge guys in the draft, but he hustles, he's tough, he can play the run game, and unlike a lot of these guys, he can also drop in coverage. So I have yet to find a hole in his game.
Mayock's comment, "guys that have natural edge rush ability are like gold," stood out. 
It made Joe think of soon-to-be free agent Dekoda Watson, who has that raw edge-rush talent, but it has yet to be honed, harnessed, and capitalized on. The last two Bucs head coaches simply couldn't figure it out. Raheem Morris thought Quincy Black was a pass-rush phenom because of one big sack against the Panthers, which was set up by Gerald McCoy. Watson was a better pass rusher than most if not all Bucs defensive ends last season when you look at the handful of chances he got.
No, Watson is not Khalil Mack. But the Bucs will have to decide soon on Watson, and Joe thinks the new regime, one that wants the type of speed Watson has, will lock up Watson for his versatility and his "gold" potential.
As for Mack, Joe's pleased to see his stock rise. That only improves the odds a certain Texas A&M quarterback could miraculously see his draft stock drop.