Poker Playing Lovie Smith
January 8th, 2014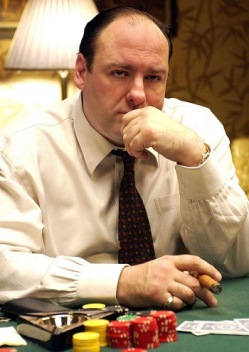 Right now one of the biggest questions for Bucs fans is just who is going to be the quarterback knighted by new Bucs coach Lovie Smith. Many Bucs fans are screaming to draft a quarterback. Others believe in dumpster diving for a veteran castoff.
And then there is the Mike Glennon Mob. This outfit all but went underground after Glennon seemingly played his way out of a starting gig in the final weeks of the season. But the Mike Glennon Mob is still here, though less active, less vocal.
Thus far, Lovie has been rather coy about Glennon's status. At times, he sounds like Greg Schiano, where Glennon is the man. But then, Lovie will throw out a one-liner to chase you off the scent, just enough to plant doubt in your mind as to which way he is leaning.
This happened again Tuesday when Lovie's whirlwind media tour continued with an appearance with "The Pope," Mike Francesa of WFAN-AM fame in New York. The subject of Glennon came up and just when it sounded like Lovie was anointing Glennon as the Bucs franchise quarterback, he did a quick about-face.
Mike Francesa: You have a good young quarterback who played under the radar because the team had such a tough year, but he performed very, very well as a rookie.

Lovie Smith: Very well, from start to finish. It is always interesting to see how a rookie — when you put him in — see how he handles it. … I saw marked improvement from his first start to the end of the year. We are already past, ahead of the learning curve. it is about now, Mike or whoever our quarterback is, to take us to the next level.
See? It's almost like Lovie is playing poker and is using a bluff. He lauds Glennon and just when it sounds like Glennon is his man, there comes the old "or whoever our quarterback is."
Lovie also said in the interview that having a season off did nothing but reinforce his beliefs that a stout defense and a strong running game is the avenue to success. Lovie cited the remaining four teams in the NFC playoffs, Seattle, San Francisco, New Orleans and Carolina as evidence.
And Lovie is right. All four of those teams have strong defenses and in some cases, an even better running game.
Do the Bucs have a chance of having a strong defense and a potent running attack? You bet. But there is a major difference between the Bucs potential, and that of the four teams still in the NFC playoffs.
Glennon is no Colin Kaepernick; Glennon is no Cam Newton; Glennon is no Russell Wilson; and Glennon sure as hell isn't Drew Brees.
Joe just doesn't know. He would love to sit down with Lovie, or any of his assistants, and have someone enlighten Joe to what he is missing with Glennon. Joe just hasn't seen it, or at least hasn't seen enough consistency to be won over.