Report: Tony Sparano To Join Bucs
January 8th, 2014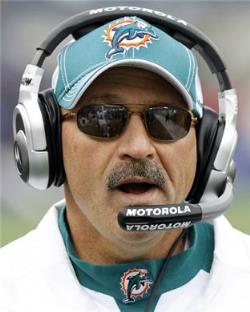 When new Bucs coach Lovie Smith came to One Buc Palace Monday for his formal coronation, he stated he hoped to complete the hiring of his coaching staff by Saturday.
Though the end of the week is not yet here, another new addition has leaked: that is former Dolphins head  coach Tony Sparano.
Though he hasn't been the head man in South Florida for a few years, Sparano recently was an offensive line coach for the Raiders and, per Vic Tafur of the San Francisco Chronicle, joined the Bucs after a contract dispute with Raiders owner Mark Davis.
While [general manager Reggie] McKenzie and [head coach Dennis] Allen were pushing for two-year contracts for the assistant coaches, Davis held firm on one-year deals, and so far five coaches have agreed to that. We haven't confirmed the names of the five, but league sources said offensive line coach Tony Sparano balked and is set to join the Tampa Bay Buccaneers staff.
Sparano was also an offensive line coach for Tuna Parcells when the Hall of Fame coach was at Dallass. Later, when Parcells was hired as president of the Dolphins, Parcells hand-picked Sparano to be the Dolphins head coach.
Sparano also spent a season with the Jets in 2012 as offensive coordinator. It is unclear what role Sparano will fill under Lovie.