Revis Passes On Schiano Endorsement
December 30th, 2013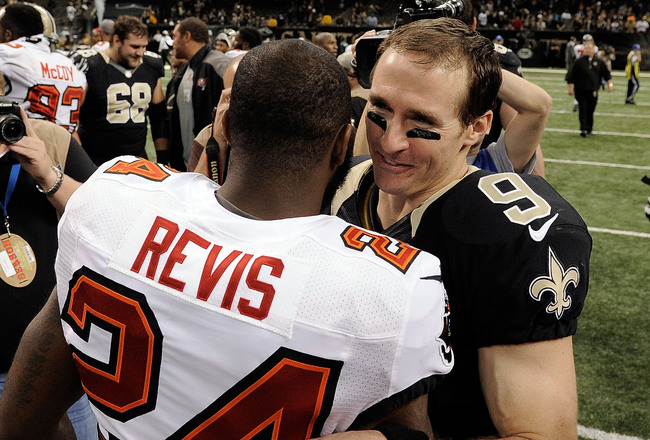 Joe wasn't impressed with Darrelle Revis' effort on a couple of plays yesterday in New Orleans. Back during the Raheem regime, they would have been called "loafs." (Sean Jones was Raheem's serial loafer.)
If Revis can't sprint in Week 17, then he should just skip the Pro Bowl so he can heal his body.
One could also say Revis served up another loaf after the game in the Bucs' locker room.
ESPN Bucs beat writer Pat Yasinskas noted that he heard plenty of support for Greg Schiano among players who were chatting after the clobbering by the Saints, but Revis didn't want to go there.
Most of the players I talked to after the game sang Schiano's praises. But there was one notable exception. Although Revis praised Schiano for keeping the team together, the star cornerback didn't exactly give a ringing endorsement when asked if his coach should keep his job. 

"That's not my call," Revis said. "I don't make those big-time decisions, those management decisions. I'll leave that as that. That's really not my call."
As Joe has written previously, Revis is a very bright guy. He knows what he's saying and not saying — and who's listening.
Last week, Revis talked about being involved in making positive changes for 2014. Perhaps, in his mind, he just took his first step?
Guys earning $16 million a season that other players look up to usually carry quite a bit of pull in the executive offices.