Schiano Doesn't Deny Freeman Now No. 3
September 27th, 2013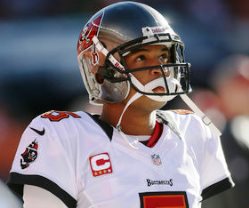 Fresh off the news from Rick Stroud of the Tampa Bay Times, that backlash to Josh Freeman's team-unauthorized interview with BSPN last night will lead him to be deactivated for Sunday's game, Bucs commander Greg Schiano dodged a chance to deny the report during his daily press conference with the local pen and mic club Friday.
When asked by Stroud about the unauthorized interview and as a result, will Freeman be placed on the inactive list, Schiano refused to answer.
"I understand the question and I appreciate it," Schiano began. "I feel this [Freeman benching] has become a focus all week. I am not going there. Ninety minutes before the game I will announce the inactive list. I am done discussing that other stuff. Let's go win a game."
When Woody Cummings of the Tampa Tribune pointedly followed-up asking if Freeman was still a backup, Schiano replied, "Again, 90 minutes before [kickoff] I will name inactives."
Schiano easily could have killed the rumor by saying, "No, he is our No. 2." (then again, Schiano was adamant that Freeman was the starter on Monday). So at least Schiano is thinking about it or has already made a decision to effectively keep Freeman out of uniform Sunday.
If not, Schiano could have quashed the report with one word. "No."
He didn't.
As for the nonsense about grumbling how the Freeman issue has been the focus all week. Come on! A guy the Bucs traded up for in the first round, a guy who fans were told for four years was the team's savior — "it's all about No. 5" — has been benched three weeks into the season, what does Schiano expect? He cannot be that naive. This is the biggest Bucs story since Schiano himself was hired, maybe bigger.
Would Schiano rather have the fourth estate focus about how Schiano is 1-9 in his last 10 games as an NFL head coach?